Heating Services in Hamilton, OH
Give us a call today: 513-867-8629
If you've faced a winter in our area even once, you know how vital a heater is to your home and to you. With Bartels Heating & Cooling you'll enjoy knowing that you will always receive professional, top-quality heating services. From the day of an installation, through every repair and beyond, you can count on us to get the job done right.
Our technicians are EPA and NATE-certified, and factory-trained.

We always provide upfront pricing.

Our team will never use high-pressure tactics.
We offer maintenance plans to help ensure that your heating system works throughout the winter, and we also provide 24-hour emergency repairs should you experience late-night heating issues. We always see to it that the system is running smoothly after any service.
Work with Bartels Heating & Cooling to enjoy a more comfortable way of life. Contact us for quality heating services today! "For a Comfortable Way of Life."
[READ MORE +]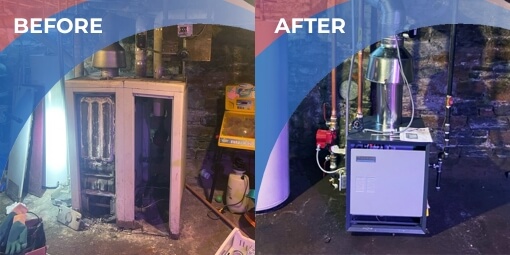 Why Heating Installation Should Be Done by a Professional
When it's time for a new heater, you should always look for qualified technicians to take care of the work. Someone with little experience may select the wrong size of system, or they may not follow all of the proper steps to make sure everything is operating smoothly and safely. For expert heating installation in the Hamilton, OH, call Bartels Heating & Cooling. We can take care of every step of the installation or replacement and can help you select the heating product that best suits your needs.
When Should I Schedule a Heating Replacement?
This is one of the questions that our heating experts get asked the most often. It depends largely on your particular situation, but in general, frequent or costly repairs, rust, or a drop in efficiency may indicate that heating replacement is a better option than repair. If you are looking for a replacement heater, or you are installing a heating system for the first time, give us a call.
Don't Wait to Call for Heating Repair Service
Any heating issue can progress into something much worse if you wait too long to schedule service. Contact an expert at the first sign of trouble to ensure that you don't end up with an even bigger heating issue on your hands. Additionally, call us if you need emergency heating repairs, and we will send one of our NATE–certified technicians to your home in Hamilton, OH as soon as we can.
Do I Need Heating Maintenance for My Heater?
Regular heating maintenance can make any heater perform better and run more efficiently. The system may even last longer than expected if you join our maintenance program for annual tune–ups for the life of the system. We offer discounts on services with our energy savings plan, which includes our 100% satisfaction guarantee. You also get a one–year warranty on repairs and 24/7 repair services.
Other Heating Products We Service
Bartels Heating & Cooling been in business for over 40 years, and our experienced staff and technicians are here to assist you with expert heating services for installing or servicing a wide variety of heating systems in Hamilton, OH. Call our team for installation or service of any of the following heating products.
Boilers are known as some of the most comfortable ways to heat a home. It's tough to service a boiler without the proper expertise, but our team can handle it all, from installation to maintenance to emergency repairs.
We install and service furnaces, the most popular heating systems found in the U.S. Schedule regular maintenance with our team for optimal performance and call us as soon as your furnace appears to be struggling.
A heat pump is essentially an air conditioner that can run in reverse to provide whole–home heating as well. An expert on our team can help you to decide whether a heat pump is the best choice for your home, so schedule heating installation with our specialists.
Radiant heating systems offer whole–home comfort that can last for decades. Call one of our professionals to talk about your options for radiant heating system installation or for general maintenance or repairs.
A heat pump is a highly efficient way of heating a home, but it may not operate properly when temperatures drop too low. With dual fuel/hybrid heaters that combine gas heating with heat pump technology, you never have to worry about this.
Unit heaters are designed to heat large, open spaces. This means they tend to be powerful enough for any outdoor workshop or garage, as long as you schedule installation or service with a heating professional like the experts on our team.
Are you looking to heat a small space like a garage or detached workshop? Call the experts on our team and make sure that you get a garage heater that does a sufficient job of keeping you warm on the coldest days.
Geothermal heat pumps absorb heat from the energy of the earth in order to heat or cool a home, an energy–efficient alternative to a standard AC or heater. We install and service geothermal systems, so contact a member of our team to find out if this is an ideal system for your home.
Ductless mini split systems are the best solutions for many homes without any ductwork throughout the house or even in a single detached space or new room addition. These units are more efficient than other single–room heating systems and many central heaters. Call us for installation or service.
Ask our technicians about all of the options we offer for thermostat upgrades that can make it a little easier to stay comfortable. Or, call our team if you notice that your thermostat is having any technical issues.
In the event of a power outage, you and your family members don't have to be left in the dark. Whole–home generators restore power quickly and can last a long time provided you get professional installation and maintenance.
Are you looking for a way to keep everyone in your home content with the temperature? A new zone control system allows members of your household full control over any individual room or zone without affecting the temperature throughout the house. Call Bartels Heating & Cooling for more information.