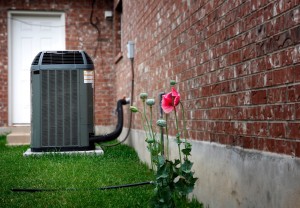 Believe it or not, spring is here. That means beautiful scenery, better weather, and, unfortunately, air quality troubles. While we look forward to the weather soon to come, it's easy to forget that it will soon be a lot warmer than we'd like to be when we try to get comfortable at home.
The air conditioning season is right around the corner. You cannot just assume that your air conditioner will work properly. And you'd probably rather not wait for a technician when your air conditioner is broken down in the middle of a hot, humid summer. Prevent that from happening by scheduling AC service this spring.
Why AC Service Should Be Completed in the Spring
Many people do not even think about scheduling service until something goes wrong with the AC system. But the time your air conditioner is most likely to break down is when you need it the most. In the summer. Your air conditioning system is working hard and the parts wear down a little faster. And it's daunting to have to wait for service when all you have is a ceiling fan and some ice water at the house to keep you cool.
Your air conditioning system is a machine that needs fine-tuning from time to time to run smoothly. Early maintenance service includes minor adjustments and a complete inspection of your AC system. During an inspection, a technician might find a problem that requires further assessment and repair. But scheduling AC repair now, on your own time, is much better than waiting for your air conditioner to break down when you really need it.
Additional Benefits of Early AC Service
There are many steps to an AC tune-up, though they vary somewhat from company to company. An inspection includes checking refrigerant and pressure levels, measuring voltage, and measuring airflow. But there are also some adjustments to be made to help the system run more smoothly all spring and summer. When our technicians service an AC system in spring, they may make any of these adjustments.
Cleaning and adjusting blower components.
Tightening electrical connections.
Lubricating moving parts.
Adjusting thermostat calibration.
Cleaning the outdoor coils.
And this provides you with a couple of additional benefits. You can expect higher efficiency after a tune-up because the AC components are able to run more smoothly. That leads to energy savings. AC performance also improves with a tune-up, and you can expect a longer AC system lifespan if you maintain your air conditioner regularly.
How You Can Make Spring AC Service Easier
Don't skip another maintenance service again. Sign up for a maintenance program from a qualified contractor. Our maintenance program includes comprehensive tune-ups twice a year, which means better heating and AC performance and efficiency.
Also, our maintenance plans include valuable discounts on the services your AC and heating systems need all year.
24-hour emergency service
Priority customer service
No overtime charges
15% discount on repairs
Contact Bartels Heating & Cooling for your next AC tune-up in Hamilton, OH. Don't wait for the summer heat before scheduling service!