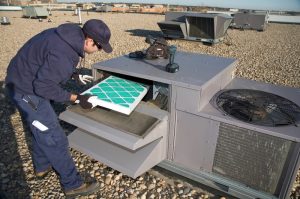 The HVAC system for your business works for you each day of operations, no matter the weather outside. That's an amazing amount of stress to place on the heating, cooling, and ventilation systems. You can always call for repairs when you have problems with part of the system, but wouldn't you rather not have to do that?
Avoiding unnecessary repairs is only one of the reasons why we recommend you arrange for regular maintenance for your commercial HVAC in Fairfield, OH. A maintenance plan for your heating, cooling, and ventilation system is an important part of protecting your investment in this equipment, which is also an investment in the ongoing success of your business. If you have ever had to deal with a failed AC during a summer day, you'll understand why this is so important. 
Below we'll go over the benefits of arranging for a maintenance program with our commercial HVAC technicians.