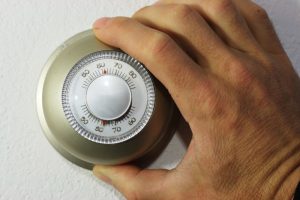 You could call this post "Summer Thermostat Best Practices," although maybe that sounds a bit too business-like. Just think of this post as your short, simple guide to undo some bad habits many homeowners get into when it comes to setting the thermostat.
Have you ever done this? It's a hot day, and you feel more flushed and sweaty than usual in your house. You go to the thermostat, notice it can go down to 60°F, and think, "I'll crank this thing and get the maximum cool air from it," then drop the thermostat setting to that lowest level. A short time later, it's gotten too cold in the house, so you move the thermostat back up to where it was.
No shame in admitting if you do this. Now please, don't do it again. This is not only a way to waste power, but it doesn't reflect how the thermostat works or how your house becomes hot.