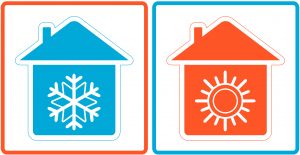 This is the best time of year to arrange for a new air conditioning installation in Mason, OH. Our weather is currently hovering around the 50s and 60s, so it's not hot enough for you to start using your AC, and you probably aren't facing any major heating emergencies either. You can plan to put in a new AC during this time if your current one is coming to the end of its service life (from 10–15 years) or has become just too expensive or unreliable to continue to run.
You do have more options when it comes to a cooling system installation than just a standard split system air conditioner. This season, you may wish to consider a heat pump for your house rather than a conventional AC. A heat pump is similar to an air conditioner in many ways, with the important exception that it can change the direction it moves refrigerant and bring heat into the house as well.
Is a heat pump a viable choice for your spring HVAC installation? We'll look more into that question below.