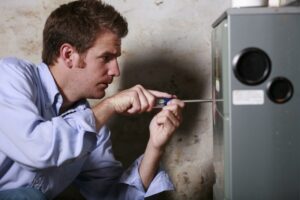 Your furnace keeps you warm throughout the year, but as a complicated piece of machinery, it runs into problems here and there that need special attention. Your limit switch is one of many components that allow your furnace to run in the first place, and it also keeps you safe at the same time.
But when limit switch furnace malfunction hits, those safety features can fail and put your home at risk. If you're wondering whether or not your furnace's limit switch is dead, this is how you can find out.
The Blower Fan Won't Turn On at All
Your blower fan isn't exactly silent. You can usually hear when it turns on. If you turn your thermostat on and there's no sound or rush of air, there's a problem. Your limit switch tells the blower when to turn on, so there's a miscommunication between the perfectly functional blower and the signal that it uses to know when to turn off and on.
The Blower Fan Won't Turn Off (Continuous Cycle)
Similarly to when the blower doesn't turn on, the same signal can be stuck in the "ON" position. Your blower never stops running as long as your furnace is on, producing immense wear and tear on the blower motor in a short amount of time. You can easily identify if your furnace has this problem if your home is at the temperature you set it to, the furnace indicates that it isn't supposed to be running, and you can hear the blower fan anyway.
Your Furnace Won't Turn on Anymore
You fire up your furnace, and nothing happens. You've checked the circuit breaker, you've used the settings on your thermostat, but it's still not roaring to life. Your furnace isn't getting any of the communication that it's supposed to because it stops at the limit switch. This is especially frustrating because the first problem any homeowner will assume is that there's a more serious malfunction in the furnace.
What Do You Do Next?
You've done your best to diagnose the problem, and you believe it's the limit switch based on what we've discussed today. Unfortunately, replacing the limit switch is not exactly a DIY fix.
Either way, your furnace isn't working the way you need it to. It's time to call a specialist to diagnose and repair the issue. While a technician is at your home, they can also assess if there are any other problems with your furnace.
Is It Your Limit Switch, or Something Else?
There's only one way to find out. Either way, it sounds like your furnace is in dire need of repair in one way or another. Call us today to come out and inspect your furnace to diagnose every issue it faces, propose a solution, and provide a fix that restores you and your family's comfort. It's not too late to call for repair services.
Contact us today to schedule a repair for your furnace and find out if it's your limit switch, or something else entirely.