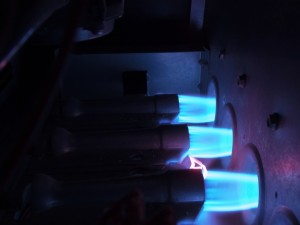 It's something you may try to put off for as long as you can. Having to replace an older heating system may not be the ideal situation to find yourself in, but it's important to recognize it when it comes. If you continue to run a furnace or boiler on the verge of a breakdown, it may fail when you really need it, and it probably costs a lot to run anyway.
Take note and check your heating system, or ask your technician if heating replacement is the better option. Here are some common signs that it's time to upgrade your heating system to a more efficient, reliable unit.
Your heating system needs some expensive repairs.
So your heating system has broken down, but the technician gives you some hope. It can be repaired. The only issue is that a heating repair will cost hundreds of dollars—and then some.
Let's say a repair costs about half what you would pay for a brand-new system. Is it really worth the price? Your newly repaired AC system will have a new part in it. That new component is mismatched with the rest of the system, which may complicate its level of performance. The other components are bound to fail eventually, meaning you'll need to replace the whole system sooner rather than later anyway.
When a repair for an old heating system is going to be about half the price of a brand-new air conditioner, it's time to reconsider. A brand-new heater is less likely to break down, and the parts run together cohesively for better overall performance.
You have an older, inefficient heater.
Your older heating system may need frequent repairs, or it might just seem to be of much lower quality than it once was. Most furnaces are not projected to remain in good working condition for more than about 10-15 years. If yours has reached this point, it's time to consider a replacement so you don't have to worry about it breaking when you need it most. And, you have the opportunity to choose a more efficient heating system.
Efficiency matters with a new heating system if you live in a colder area. And today, you can find furnaces inefficiencies so high, you may notice a dramatic drop in your bills.
You don't have the control you want over your heating system.
Want to update your heating system, but not sure you really need a brand new unit? Maybe it's just the controls that need an update.
You can keep your older system and update the thermostat only, so that you are able to monitor temperatures at all times and make an adjustment from an application on your smart phone, even if you are nowhere near your own home. Smart thermostats are the newest trend in HVAC technology, and for good reason, but be sure to have a professional heating technician install yours.
Bartels Heating & Cooling provides heating system installation in Fairfield, OH. Call us to learn more about our 36-month financing deal. Offer expires February 28, 2017.