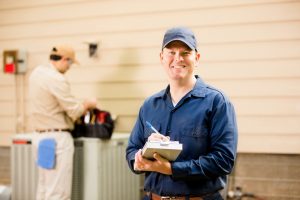 When you set out to hire an HVAC service company for an air conditioner or heater installation or repair, you don't really know what to expect. You may find a company that advertises low prices, only to have them upcharge once they arrive for the job. You may expect a team to come at a certain time, only to have someone show up hours late and unprepared for the job.
Many people prioritize qualities of an HVAC service contractor that won't necessarily back up their qualifications for the job. If you want to feel certain that your system is in good hands, look for these qualities as you search the web.
Certifications and Accreditations
First, you should look for an HVAC service company with the proper certifications for the job. That means more than just having a business license and the proper insurance. First, you should check on whether the business is accredited with the Better Business Bureau, which is easy to do if you visit the BBB website or call their number.
Then, look into additional certifications. NATE (North American Technician Excellence) is the leading certification organization, trusted and recognized throughout the entire heating, ventilation, and air conditioning industry. When a company employs NATE-certified technicians, you know that you have reliable technicians who will do the work right the first time around—offering you the best value even if the service cost is higher than elsewhere.
Factory Authorized Dealers
We are proud to be Carrier Factory Authorized Dealers. Any time a company is authorized by a manufacturer to install their products, it says a few things about the dealer.
This contractor cares enough about their business to train their employees and work towards certification.
A top manufacturer trusts this company and its technicians enough to put them in charge of representing their brand.
This company has access to the latest technologies and advanced products.
Emergency Service Available
Look for a company that offers emergency service when you need it. Even if you do not require emergency air conditioning or heating service right now, you may wish you'd chosen a different company later on, when you need it and have to find an unfamiliar company to do the work.
Find a company whose services you'll want to utilize later on. That way, you'll already have trusted technicians ready when you need them.
A Longstanding Local Company
Finally, look for a longstanding company, one that has been in business for many years and has shown a successful history. It's nice to support a new local business, but a local company that has been around for over 20 years has the experience necessary to hire the right technicians with the right qualifications.
This type of company tends to recognize the value of staying up-to-date in the industry and providing ongoing training to all technicians. They have access to all the tools necessary for the toughest of jobs, and the experience to deal with any issue that comes their way.
For quality HVAC service in Lebanon OH, reach out to the experts at Bartels Heating & Cooling. We've earned the label of Contractor of the Year for the State of Ohio.