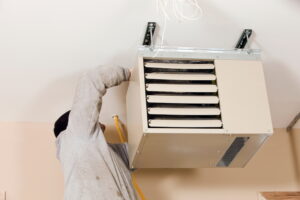 Garages are difficult spaces to heat because they're often open to the outside with enormous doors and it's difficult to create effective insulation around them. The heating requirements of a garage make it extraordinarily difficult to connect to the rest of the HVAC system in a home: the standard furnace for a home won't be able to warm up the garage unless a much larger heater is installed, which would then be overpowered for the rest of the house. Because of these challenges, many homeowners simply don't heat the garage. 
There are advantages to heating a garage, however, and one of the services we offer as a Mason, OH, HVAC contractor is the installation and service of garage heaters to handle this specific task. We offer several different models of garage heating systems.
Below we've listed several reasons you may want to consider having our technicians set up your garage for heating.
ONE: It's great for your vehicle
In the middle of an Ohio winter, getting your car or other vehicle ready to go can be annoying. The engine struggles to turn over, ice has formed on the windows … you've gone through these problems before. A heated garage means your vehicle is ready to go. And not only that, the heated garage slows down the detrimental effects of winter on your vehicle. You can expect a longer service life from your vehicle and fewer repairs and potential breakdowns when it's kept in a warm space throughout the winter season. 
TWO: It provides you another room you can work in
Would you like to make your garage a workshop? Many people enjoy hobbies they can do out of the garage, but it's hard to "enjoy" much of anything in an unheated space during the winter. If you don't plan to have a complete garage conversion, a garage heater is the next best thing and lets you expand out how you use your home. 
THREE: It can heat other parts of the house
Do you have rooms over the garage? If you do, they'll benefit from the warmth of the garage beneath them. These rooms often have heating deficits because heat will easily slip through the floors to the cold garage below. A warm garage means these rooms will trap heat better, and that not only means increased comfort, it will lower your other heating costs. 
We offer great options for heating the garage
As we mentioned before, there are several ways you can heat the garage without having to interfere with the standard HVAC system. A ductless mini split lets you attach a heat pump unit to the garage that sends heated air through a blower mounted on the wall. A big advantage of using a ductless mini split is that it can also function as an air conditioner, so you can cool off the garage in the summer if you still want to use the area as a workplace. We can also install a unit heater, a specialized heating system designed for warming large, open areas or ones that are often exposed to the outside.  
Call Bartels Heating & Cooling "For a Comfortable Way of Life"! We offer heating solutions such as garage heaters and much more.