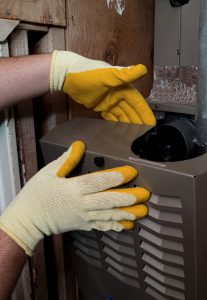 You assumed you had a few good years left with your heating system, but it's suddenly showing signs that it's giving out. Unfortunately, you may have to replace it, but you want to know…what went wrong?
It's not always an easy answer. But we give you a general idea of what could be amiss with your furnace in today's guide.
It's not the right size for your home
Many people are focused on saving money when installing a new furnace. They search around for technicians who are, first and foremost, affordable and can offer an inexpensive furnace installation. Unfortunately, this can backfire in only a short time.
Undersized OR oversized furnaces can fail years sooner than others. A furnace is designed to heat a certain amount of space, and improper sizing results in a number of problems with the way the system operates, wearing down parts and forcing the system to shut down.
Undersized: Upon installation, you may have tried to save money with a slightly smaller furnace. A furnace that is not large enough for the space in your home will have to run nonstop in an attempt to reach thermostat temperatures, and that means the components will wear down— You'll probably need frequent repairs throughout the system's lifespan, and it won't last as long as if it were the right fit for the space.
Oversized: A furnace that is too large is not a solution either. This may short-cycle, running in brief spurts too often, which can be hard on the motor and may lead to premature failure.
With your new furnace, be sure to only work with qualified technicians who will see that your new furnace is just the right fit!
It doesn't get enough care and maintenance
A furnace can also fail prematurely when it doesn't get the care and maintenance necessary to keep it in good shape throughout its lifespan. If you're confused about why your furnace is suddenly running into so many issues, think back to its earlier life. Did you take steps to keep your furnace in good condition, or did you simply trust everything was working well if there were no serious issues?
Proper maintenance is key to enjoying a long service life from your furnace. Throughout a furnace's lifespan, that means you should…
Schedule routine maintenance with professional technicians at least once a year.
Call technicians for repair the moment you notice a problem with the heater.
Change the air filter every 1-3 months.
It's simply past its prime
Of course, it may just be that your worn-down furnace is older than you realize, or you might not realize the true lifespan of your furnace. Most often, heaters are only really expected to last about 10-15 years. Proper care and maintenance can help extend this lifespan. However, at a certain point, it makes sense to replace the furnace instead of attempting to repair a furnace that has reached the end of its life.
For more information on furnace replacement or furnace repair in Cincinnati, OH, contact the pros at Bartels Heating & Cooling.