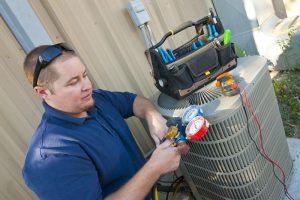 When it comes time to replace your air conditioner in Hamilton, OH, you obviously want the job done promptly. You also want it to be done correctly every step of the way, so that you can enjoy the very best performance that your new air conditioner has to offer. That means picking up the phone to schedule your AC installation with qualified professionals—just like the ones on our team! All of this does beg the question, though, of when to schedule an AC replacement.
The obvious answer is not always the right one, and in this case, "when it breaks down, of course" is definitely not the right answer. Don't get us wrong. Sometimes an air conditioner will break down with very little warning, necessitating an unplanned replacement. That being said,  it is always in your best interest to get out ahead of your air conditioning replacement. So read on, keep the following information in mind, and remember to contact us when you think the time for an AC replacement is approaching.
Age: It's Important, but Not Necessarily a Deciding Factor
Yes, the age of your system is definitely going to be a major point of consideration when it comes to replacing your air conditioning system. However, it is not necessarily the deciding factor that some homeowners seem to think that it is. Why not? Because many older systems are still running just fine, and many newer systems may still fail to meet your expectations.
So how do you use the age of your system to inform your decision? We recommend that you keep it in mind when considering the following factors, as well. You'll see that the relationship between them and system age can really influence whether or not you'll be hanging onto your system or opting for a new one.
How Are Your Energy Bills Looking?
Ideally, we'd all be able to live comfortably without having to worry about the cost of doing so. Here in the real world, though, we have to pay for our comfort. That does not mean that we should have to overpay for it, though. If your air conditioner is costing too much to run, then it may make more sense for you to replace it with a more efficient model.
Your system may be coming up short on efficiency because it is very old and has lost some capability over the years, or maybe it was manufactured at a time when efficiency standards were lower. If this is the case, replacing that old system now makes a lot of sense. Newer systems are still viable for replacement, though. Maybe you skimped on efficiency to save some money up front, or you inherited a newer but low-efficiency system when you purchased your home. Whatever the case, upgrading now can save you money in the long run.
Is the System Reliable?
When an air conditioner is very old and is not that reliable, the decision to replace is fairly easy to make. It just doesn't make sense to keep funneling money into a system that is close to the end anyway.  The decision can be tougher with a newer system, but is still one to consider.
Obviously, you're not going to replace a system that is only a few years old because it has the occasional repair need. If your system is fairly new but is also requring frequent repairs (not covered by warranty) or a single repair that will cost more than half the price of a new system, then you may want to opt for replacement. It's a tough decision to make, but we're here to help you make the right one.
Schedule your AC services with Bartels Heating & Cooling.