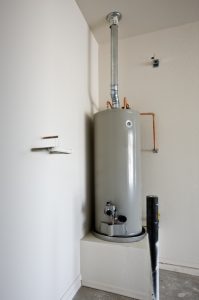 Even though it's warm right now, there's one heating system most of us cannot imagine life without at any time of year—the water heater. When you find you need a new water heater, it can be a stressful time, as you don't want to be without hot water for long but you also have the opportunity to shop around and find the unit that is truly the best fit for your home.
The best way to find a water heater that works for your household is to consult a trained plumber. However, we want to help you get started by outlining some of the basics of new water heater installation.
Gas and Electric Tank Water Heaters
There are two main options most homes have when it comes to the conventional tank water heater: one fueled by natural gas and one running on electricity. Electric tank water heater do pose a bit of a problem in that electricity tends to cost more than natural gas. However, many people like that they cost less to install and that they tend to last quite a long time.
Gas tank water heaters may not be available to every household, mainly those without access to the natural gas line. If this is an option for your home, you should know that gas tank water heaters are safer and more efficient than ever before, and can help you to save money over time.
Sizing a Tank Water Heater
Conventional tank water heaters come in many different sizes. You wouldn't want one that was larger than your household needs, as this would waste fuel and energy and cost more to install. But you also don't want your tank water heater to be too small, as you may run out of hot water frequently. We recommend consulting with a professional to find the right water heater for your size, as they can do calculations based on family size and average usage.
You should keep in mind, though, that an electric water heater might not be available in the size you need if you have a larger family. Federal regulations require limitations on manufacturers in terms of energy usage for water heaters, and large electric tank water heaters sometimes cannot meet these terms of efficiency—unless they are heat pump water heaters.
Heat Pump Water Heaters
A heat pump water heater is an alternative to the conventional electric tank water heater. It uses electricity to run as well, but it doesn't have to use quite so much. This is because it actually transfers heat from place to place rather than having to generate heat, something that requires a lot of energy at once. You may not be able to find a large electric tank water heater to purchase if you have a larger household, but a heat pump water heater is a viable alternative.
Tankless Water Heaters
Finally, tankless water heaters are available in gas and electric models. In either case, it can reduce energy and fuel usage by starting up only as needed. Unlike tank water heaters, which can waste energy operating all day and night when you only need them for brief periods, tankless water heaters only turn on when you open a hot water tap. This can save you a lot of money over the years, especially since they tend to last for decades.
For water heater services in West Chester, OH, contact the team at Bartels Heating & Cooling.