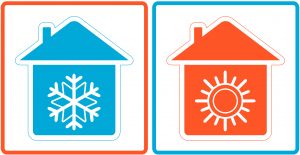 This is the best time of year to arrange for a new air conditioning installation in Mason, OH. Our weather is currently hovering around the 50s and 60s, so it's not hot enough for you to start using your AC, and you probably aren't facing any major heating emergencies either. You can plan to put in a new AC during this time if your current one is coming to the end of its service life (from 10–15 years) or has become just too expensive or unreliable to continue to run.
You do have more options when it comes to a cooling system installation than just a standard split system air conditioner. This season, you may wish to consider a heat pump for your house rather than a conventional AC. A heat pump is similar to an air conditioner in many ways, with the important exception that it can change the direction it moves refrigerant and bring heat into the house as well.
Is a heat pump a viable choice for your spring HVAC installation? We'll look more into that question below.
The Heat Pump Benefits
The main reason homeowners consider heat pumps as an AC replacement is their dual function as heating and cooling systems. Switching between heating and cooling mode is as simple as changing the settings on the thermostat. In heating mode, heat pumps use less electrical power than standard electric furnaces, and their performance in cooling mode is as effective as a central AC of the same size. Many all-electric homes have found heat pumps an excellent alternative to other forms of heating.
Heat pumps also offer better safety than using gas-powered furnaces—the exteriors of heat pumps don't even warm up in heating mode!
The Benefits of Staying With an AC
Although heat pumps seem like all-around superior choices, they aren't right for all circumstances. For one, heat pumps cost more than air conditioners, so to make them cost-effective options they must replace both the current air conditioning system and the heating system. It's a waste of money to purchase a heat pump to only do one half of its job. If you don't have plans for a new heater in the new future, a heat pump may not be the economical option.
Heat pumps also have limitations in heating mode: they will lose efficiency when the weather outside drops below freezing and they must work harder to extract the heat from the air to move indoors. This may not present a serious comfort problem for all homes, but it's something any potential buyer needs to consider and discuss with their installation experts.
Trust the Bartels Team
Need more help to make the choice for your spring HVAC upgrade? We're glad to help. We not only work with central air conditioning systems and heat pumps, we also install ductless mini split systems, which are heat pumps that bypass the need for ductwork. We won't steer you wrong when it comes to selecting the new installation that will keep your family comfortable when you need it.
Call Bartels Heating & Cooling "For a Comfortable Way of Life"! We have 24-hour emergency service available.