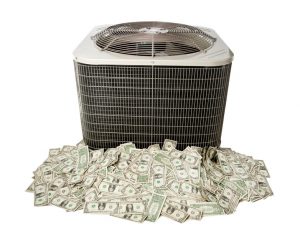 This is the time of year when many homeowners think about making changes to their central air conditioning systems. The hotter weather is on the way, and if you have an aging AC (greater than 15 years old) or one that's costing more to run than it used to, you may want to upgrade to a new, high-efficiency air conditioning system.
Current high-efficiency air conditioners have SEER ratings of 20 and above, whereas the standard mid-efficiency system is around 15 SEER. This can make a big difference in what you pay annually to cool your home. You'll need to have professionals help you with choosing the unit and then take care of the installation.
What Makes an AC High Efficiency?
If you want to what sets aside a high-efficiency air conditioner from a mid-efficiency one, aside from the SEER rating, we can explain some of the differences.
Inverter Technology. This is a fancy way of saying that high-efficiency air conditioners use motors that can modulate their output rather than working in a standard on/off way. Inverter motors can ramp up or down to work at different capacities; they don't need to always run at 100%. A high-efficiency air conditioner with inverter motors will run at lower capacities when possible, and this reduces how much energy the AC uses overall. (It also makes them quieter.)
Variable Refrigerant Flow/Variable Refrigerant Volume. Similar to the inverter motors, a VRF/VRV air conditioner (the two terms are interchangeable) can modulate the flow of refrigerant to operate at lower levels. Aside from making the AC more efficient, this type of operation creates a more even spread of cooling in a home with fewer temperature fluctuations.
Variable Speed Fans. The blower motor for an air conditioner uses a larger amount of electricity. Thanks to inverter technology, the fan can run at a lower capacity. In fact, 60% of the time it will run at less than full capacity, saving energy. The modulating fan speed also helps with even cooling distribution so you won't have hot and cold spots around the house.
Scroll Compressor. This is a type of compressor found in many high-efficiency air conditioners. They have a higher level of energy efficiency compared to standard compressors in mid-efficiency ACs.
Go High Efficiency With Us!
Interested in a high-efficiency air conditioning system in Cincinnati, OH? You have already found the right people to handle the job! We work with the top brands and stay current with the best in advancing HVAC technology.
Now is a great time to act, as we're currently offering up to 72 months financing on qualifying systems. This makes it easier than ever to upgrade to an AC with superior efficiency. You won't have to worry about finding the ideal new cooling system to meet your needs and rewards you with a more efficient performance: our NATE-certified technicians will help you with your different options and ensure the system they install will do the best job for you.
Call Bartels Heating & Cooling "For a Comfortable Way of Life"!