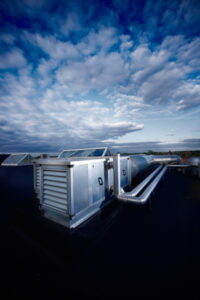 With October almost here, it's time to think seriously about the change in the weather. Before you know it, the air will turn crisp and cool—and then suddenly it will be winter and the temperatures will plummet. Is your business ready to handle the seasonal change? Or, to be more specific, is your Cincinnati, OH, commercial HVAC system prepared to deal with the colder weather?
You don't have to have an immediate answer to this. Few people who own or operate a business know the exact details of how their heating and cooling systems work. That's why you have commercial HVAC professionals like us to handle the service. 
We can tell you this: an HVAC system isn't prepared for winter if it doesn't have fall maintenance. This is an essential step to protect your investment in your business. 
How Fall Maintenance Benefits You
Preparation is the key to avoiding numerous problems that can interrupt the flow of your business and harm its bottom line. Regular maintenance is an important investment in prevention, but it's also an investment in savings, both short and long-term. Below are the major benefits of keeping up with commercial HVAC maintenance each fall:
Safety:

As a business owner, you know the importance of a safe workplace—for employees, customers, clients, tenants, the neighborhood. You probably rely on gas-powered heating systems, and these types of heaters require annual inspections and tune-ups to ensure they operate as safely as possible. 

Code Compliance:

This goes in tandem with safety. Regular service for heating systems are often necessary for your business to meet local safety standards and comply with codes.

Energy Savings:

A well-oiled machine uses less power, it's that simple. Today's HVAC maintenance does more than oil the motors (although that's part of it), and all the steps involved work to make the equipment operate with minimal stress. This protects you from growing costs to heat your facility. 

Long Equipment Life:

You don't want to spend money to replace a commercial heating system that could have continued to work well for another five or so years. Maintenance gives your equipment the best chance of reaching the full extent of its estimated service life. 

Reliable Performance:

Everything in your commercial facility should work when you need it to. There are few pieces of equipment more vital during the winter than the heating equipment, and maintenance is designed to keep your heating systems running dependably so you won't have any costly downtime. 

Warranty Protection:

The manufacturer's warranties on most HVAC equipment can be voided without regular professional maintenance. Don't get trapped paying out of pocket for a repair or replacement that the warranty would have otherwise covered.
Schedule Heating Maintenance ASAP
We recommend you call our commercial HVAC experts soon to schedule maintenance for your commercial systems. The sooner you have it done, the more convenient it will be. Once you've gotten heating maintenance behind you, the upcoming winter will feel much less stressful. 
Call Bartels Heating & Cooling "For a Comfortable Way of Life"! We have 24-hour emergency service available.