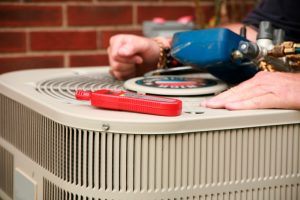 When it's still extremely hot in late summer, it can be difficult to make homeowners realize the importance of scheduling maintenance for their home heating systems, especially with a furnace. The only "furnace" people can think of during heat waves is the furnace coming from the sun.
With the heat pump, it's different. A heat pump is a dual-function HVAC system that can switch easily between operating as a cooling system and a heating system. Because a heat pump works around the year—something that air conditioners and furnaces don't—it needs the maintenance attention of both a heater and AC. This is actually good news, since getting your heat pump maintained in fall not only means you're getting it in the best shape for the coming winter, but you're also helping it with keeping you cool through the remaining hot days of the year.
"But won't fall maintenance only help the heat pump work better as a heater?"
Not at all. This is one of the best benefits of a heat pump—it isn't two different devices packaged into a single cabinet, but one appliance that can work in two different modes. No matter what mode a heat pump is in, it uses the same sets of components: a compressor, fans, refrigerant coils. There are some small differences in operation between modes, such as using less refrigerant in heating mode, but otherwise what separates heating and cooling mode is simply the direction the heat pump circulates refrigerant.
So when you arrange for heat pump maintenance in spring and fall, you're getting the same type of service for your comfort system. Our technicians inspect the heat pump to look for potential problems such as refrigerant leaks, loose electrical connections, compressor troubles, low airflow, issues with the reversing valve, and to provide a full tune-up for the heat pump that includes cleaning the coils and lubricating moving parts such as the motors. All this service helps a heat pump work both at cooling and heating.
The benefits of bi-annual heat pump maintenance are tremendous
Perhaps the biggest benefit of routine heat pump maintenance in spring and fall is that it prevents emergency breakdown situations that may leave you without critical cooling in summer or heating in winter. When you prep your heat pump twice a year, it will head into the coming season with the best chance of getting through it without trouble.
Other benefits of keeping up with bi-annual heat pump maintenance:
You can avoid calling for heat pump repair. Maintenance eliminates more than 50% of repairs a heat pump would otherwise need.
Maintenance extends the heat pump service life, often helping it to reach 15 years of effective cooling and heating.
Maintenance keeps a heat pump working at peak energy efficiency for most of its service life so you won't have to pay more than you have to on your utility bills.
When a heat pump has regular maintenance, it keeps its warranty valid.
It's easy to have maintenance for your heat pump: reach out to us to sign up for our regular maintenance program and leave the rest of the hard work to us.
Contact Bartels Heating & Cooling "For a Comfortable Way of Life"!