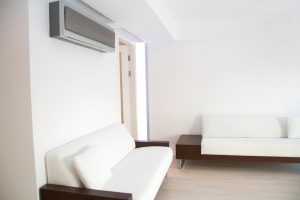 Ductless mini splits are excellent ways to enjoy year-round cooling and heating without the many inconveniences that ductwork creates. The majority of homes have ducts for central comfort, and they bring plenty of disadvantages:
Loss of efficiency because of heat gain through the duct walls in hot weather and heat loss in the cold weather—especially unconditioned places like an attic.
Ducts collect dust and other debris that reduces performance and also lowers indoor air quality.
Ducts are susceptible to developing leaks, which seriously impair HVAC system performance and waste energy.
Escaping from all these problems is one reason many homeowners elect to have a ductless system installed rather than a standard ducted one. But this doesn't mean that ductless mini splits are completely free from trouble. We recommend you watch for signs of faults in a ductless system and call for HVAC service in Cincinnati, OH as soon as you suspect something is wrong.
Failed air handler
A ductless mini split system sends conditioned air into the living spaces through wall-mounted air handlers, each of which connects to the outdoor condenser unit through lines that pass through the wall. If one of the air handlers stops working, it's usually not a major emergency because the other air handlers will continue to operate. But you'll still want this fixed as soon as possible. Not only will it restore cooling, but the problem may be from a refrigerant leak, and this will eventually affect the rest of the system.
Signs of water damage
Make an occasional check around each air handler to see if there are traces of water damage, such as warped wallpaper or mold. This can indicate a condensate line leak. This is a risk because it will weaken the wall material and allow the wall unit to tear away and fall.
A general drop in heating and cooling power
Because each air handler can be manipulated separately, you can control the level of cooling/heating they put out. But if you notice that you're having trouble keeping rooms around the house sufficiently conditioned, this points toward something wrong with the outdoor condenser or a loss of refrigerant—both situations will cause all the air handlers to lose conditioning power. You may even have a compressor in danger of failing, and replacing a busted compressor is one of the most expensive repairs to schedule.
Low airflow
If one of the air handlers has low airflow coming from it, the first thing you should do is clean its filter. Each air handler has a permanent plastic filter you can access by opening the front compartment. Clean the filter in the sink, allow it to air dry, then put it back in place. We recommend doing this every 1–3 months. If a clogged filter isn't the problem, you may need to have professionals check on the unit's motor.
Our technicians at Bartels are ready to help with all your heating and cooling needs, and they are standing by 24/7 to help!
Call Bartels Heating & Cooling "For a Comfortable Way of Life."