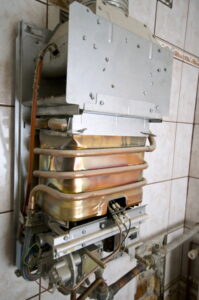 Natural gas is the most common way to heat homes in the area. But natural gas isn't an option for all homes, and some homeowners prefer an all-electric house because of concerns over possible safety hazards from natural gas. What options do homes without natural gas have when it comes to winter heating?
There are two main ones: the electric furnace and the heat pump. Both are common, but have different benefits and drawbacks. We'll look at these pros and cons below and help to shed more light on making the choice between the two.
The Electric Furnace
Pros: An electric furnace is an inexpensive choice for a new installation. In fact, it's one of the least expensive options for a central heater, and it lasts longer than the average gas furnace or heat pump (often more than 20 years). An electric furnace runs quietly and creates no harmful emissions, and is also small compared to other types of HVAC systems. The flexibility of electric furnaces means that almost any home can benefit from one.
Cons: Although electric furnaces have 100% AFUE (they don't lose any heat to exhaust), they are often expensive to operate because of the cost of electricity, especially in an area with harsh cold weather when furnaces run through most of the day. An electric furnace takes longer to heat up a space than a heat pump or gas furnace, and this can lead to uneven heating.
The Heat Pump
Pros: A heat pump is a two-in-one system that serves as both a heater and air conditioner, and runs in a manner similar to an air conditioner. In heating mode, a heat pump is highly efficient and uses less electricity than an electric furnace. This is because a heat pump consumes electricity to move heat, rather than generate it. A heat pump is safe, and its exterior doesn't even warm up when in heating mode. There's also the option for a ductless heat pump for homes without ductwork.
Cons: A heat pump is more expensive to purchase than either a standalone AC or heater. In order for a heat pump to be a cost-effective installation, it must therefore replace both the old AC and furnace. For homes that plan to keep their current AC for more years, a heat pump may not be the best choice. A heat pump can also lose energy efficiency in extremely cold temperatures, making it necessary to have a back-up furnace. 
The Professionals Will Help You Choose
When it comes to your West Chester, OH, HVAC services, you don't want to risk anything that may end up delivering you inadequate heating—and that starts with choosing the right heating system for installation. If you read the above about furnaces and heat pumps and still aren't certain about the best for you, just call us. We'll help you navigate the options. (And there's also the choice for an electric boiler if you're interested in making an even larger change to your home heating.)
Call Bartels Heating & Cooling "For a Comfortable Way of Life"! We'll find the best heating system to match your home's needs.