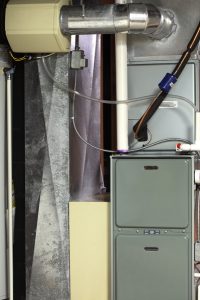 At the end of each winter, you'll want to assess your furnace and ask yourself if it is getting close to—or even reached—the end of its service life. If you think the furnace is too old, the spring and summer is a good time to have the new installation work done, since you won't need to have the furnace keeping your home warm.
One of the key pieces of knowledge in deciding if a furnace needs a replacement is how old it is. But what does that age tell you? How long can you expect a furnace to last? The answer isn't straightforward, since other factors come into play.
Gas Furnace Life Expectancy
The modern gas furnace can often last around 15 years, and sometimes for as long as twenty. Much older gas furnaces made of cast iron can run for even longer. However, these furnaces have lower efficiencies and cost much more to keep running. Current furnaces work out as a better option, even with their shorter service lives.
But a furnace may fail earlier than 15 years. Much of it depends on how well the furnace has been cared for over the years. A furnace that has received annual maintenance tune-ups and inspections from HVAC professionals should have little difficulty reaching the 15-year mark. If a furnace only has sporadic maintenance, it may fail at 10 years or even earlier.
We recommend replacing a furnace that is more than 15 years old if it is showing signs it's losing energy efficiency (it costs more to run than it once did), it is no longer effective at warming the whole house, it runs noisily, or has any corrosion on it. If you call us for repairs, our technicians can tell you when the repair service is too expensive to be worth it (usually if it's more than half the cost of a replacement).
Electric Furnace Life Expectancy
The electric furnace isn't as common because it costs more to use electricity than to burn fuel. However, some homes use supplemental electrical furnaces to aid with heat pumps. These furnaces have longer service lives, often reaching 20 years, because they suffer from less stress due to the interaction of combustion gas with metal.
Electric furnaces also require regular maintenance to keep them in the best shape, although the effects of wear and tear are less severe. However, because this type of furnace is expensive to operate, if you come across a replacement option (such as switching entirely to a heat pump for your heating and cooling) that provides you superior energy efficiency, we recommend a replacement—even if the electric furnace is only about 10 years. Electric furnaces are less expensive upfront investments, so it's often worthwhile to replace them early.
Before making a choice, call our technicians for furnace repair in Cincinnati, OH. We'll see if repairs can keep your furnace going or if it's the year of replacement.
Schedule service to repair or replace your furnace. Look to Bartels Heating & Cooling "For a Comfortable Way of Life."