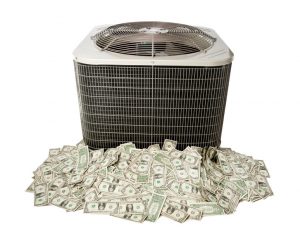 With summer well on its way, you want to be sure that your air conditioner is equipped to take on the heat! Summer temperatures will leave you yearning for the cooling relief that only your air conditioner can provide, so of course, it makes sense to take care of any repairs before the season actually begins!
There are quite a few signs that suggest you are in need of professional air conditioning repair in Cincinnati, OH, and below, we've listed some of these signs for you. Remember, it is in your best interest to schedule repairs at the first sign of a problem, so if any of the following apply to you, make sure you pick up the phone and call!
Signs That Your AC is in Trouble
Here are a couple of tell-tale signs that your air conditioner is need of repairs:
One: Low Airflow
Low airflow indicates that there is cool air trapped somewhere in the system. Though this may not seem like a big deal, it can certainly be a big problem in terms of efficiency. When there is air trapped in the system, coils can freeze over and your system will have to work much harder to do its job, increasing strain on the components. If left ignored, this can lead to costly repairs and high energy costs.
Two: Short Cycling
Short cycling is when your air conditioner repeatedly turns on and off without ever completing a full cooling cycle. If this is happening in your home, your best bet is to turn off the system and contact your local HVAC pro. Short cycling is not only super inefficient, but it also places a ton of excess wear and tear on the system. So, if your system keeps turning on and off every few minutes, don't hesitate to schedule your repairs.
Three: Uneven Cooling
Uneven cooling is one of the more subtle signs of an AC problem and often gets ignored. However, when one or more rooms in a home aren't receiving the same level of cooling as others, it is definitely a sign that your system is operating as it should. This sign often suggests that you've got poor insulation, windows in need of caulking, or leaky ductwork.
Four: Strange Noises
Your air conditioner is not inherently noisy. In fact, the only sound you should ever hear coming from your AC is the sound of air gently whooshing through the vents. Therefore, sounds that resemble screeching, clanking, humming, rattling, and moaning are definitely a cause for concern. A professional AC technician will be able to accurately diagnose and repair this issue in no time!
Five: Increased Bills
We always recommend keeping a close eye on your monthly energy bills. If you find that you are paying more and more each month to keep your home cool, it is likely that there is an issue making your air conditioner inefficient. Of course, you don't want to pay more than you should have to, so it is important to address this issue ASAP!
To schedule your AC repairs this summer, contact the experts at Bartels Heating & Cooling.