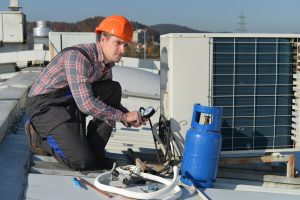 October is the first full month of fall and the point when we start to experience cooler weather as a prelude to the winter. It's also the time when we recommend our Loveland, OH commercial HVAC clients arrange for their annual system inspection and tune-up. This regular maintenance is essential for protecting both an investment in a commercial heating system and the on-going operations of a business through the winter.
If you don't currently have a commercial HVAC contractor to handle fall maintenance for your business, you've found the right people to take on the job. We offer full HVAC maintenance services for commercial systems, regardless of whether we installed the system originally. (Many HVAC contractors only maintain systems they installed.) Our technicians are NATE-certified to ensure you have the professional work you deserve.
Why Commercial Heating Maintenance Is Essential
We provide maintenance for both residential and commercial heating systems, and we know that both are vital for proper heater performance over the winter. But commercial maintenance is even more important than residential maintenance. After all, if a home heater fails, it affects only a few people, where a failed commercial heater affects an entire operation and threatens its bottom line. No matter what type of business you run, from an office to a restaurant or retail location, a busted heater during the winter spells revenue-losing trouble.
One of the jobs of professional commercial heating maintenance is to prevent unexpected system breakdowns and downtime. During maintenance, our certified technicians do a thorough inspection of the heater to pinpoint potential trouble spots and places where preventive repairs can head-off worse problems. Cleanings, adjustments, and tune-ups lower the chance of strain on the heater creating repair needs and interruptions in comfort.
Perhaps the most costly "repair" a heater might require is an early replacement. The best way to ensure a commercial heating system enjoys the longest service life possible is through maintenance. Otherwise, the heater may end up breaking down permanently years too early.
Another essential service heating maintenance does is keep the HVAC system working safely. Although commercial heaters are built with safety as the #1 priority, any heater runs the risk of creating hazards if it is neglected. This is especially true of gas-powered systems such as furnaces and boilers. Skipping maintenance to save a few dollars is not worth taking the chance of creating hazardous conditions inside your facility!
Maintenance also helps the bottom line of a business by keeping the HVAC system working at peak energy efficiency. A heater gradually loses efficiency over time without tune-ups and inspections, sometimes as much as 5% to 10% loss annually—with a corresponding rise in utility bills.
Finally, commercial maintenance for a heater keeps the warranty in force. Without the warranty, a business will have to pay for heating repairs or replacements due to factory faults.
To find out more about our commercial HVAC maintenance services, call our offices today. We'll help you get on the schedule for prompt service and prepare your facility for the coming winter.
"For a Comfortable Way of Life," trust to Bartels Heating & Cooling. We offer complete commercial HVAC services to Hamilton, OH and the surrounding areas.