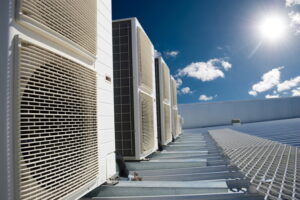 The signs of air conditioning problems in a house aren't often difficult to spot. Residential ACs are smaller and handle cooling limited areas, so when anything goes wrong, it will result in quick changes in indoor temperature and humidity. Even if the trouble with the home's AC isn't causing temperature changes yet, it's easy to notice something going wrong with a unit when half of its components are sitting in the house itself.
Commercial spaces face a different situation with air conditioning systems on the fritz. Commercial ACs are larger, more powerful, and modular, and may start to fail in specific areas of a business rather than the whole working space at the same time. Because commercial ACs units are usually housed entirely on the roof in packaged units (in other words, they don't have major components housed inside the building), it can be tricky to pick up on faults right away. 
How can you tell the early signs of a faulty commercial air conditioning system so you know to call for repairs? Below we'll go over three major signs to look for.